Jump to Recipe
This fluffy and crispy waffles are made out of chickpea flour which is naturally high protein. Vegan, gluten-free and only requires 5 ingredients.
My chickpea flour has been sitting around for ages and I have no idea what to do with it. One day, I came across a chickpea pancake recipe and have the idea of making chickpea waffles. I actually do not have much faith in this recipe. For starters, I never made waffles before. I had tried to bake with chickpea flour in the past, but there is this raw-y ( I know this is not a word) taste that I cant tolerate. ( Hence the reason why my chickpea flour has expired. )
Surprisingly, the waffles turn out to be DELICIOUS. Airy and fluffy, this has been my go-to breakfast lately. Most importantly, you cant taste the chickpea flour. Even my picky non-vegan brother likes it !
To be honest, most of my waffles ended up splitting in halves the first few times making it. After doing some digging and testing, I found some helpful tips that help prevent this disaster from happening :-
Always make sure your pan is hot enough before pouring in the batter ! My waffle pan has an indicator, but if yours doesn't, try preheating it for a few minutes before cooking your waffles.
Read the user manual of your waffle maker. ( its boring, I know. But you will thank me later! ) Some pan needs greasing, while the non-stick ones tends to works better without oil.
Be patient ! Do not open the waffle maker to early. The cooking time varies depending on the pan that you are using. Mine tends to cook between 5-7 minutes.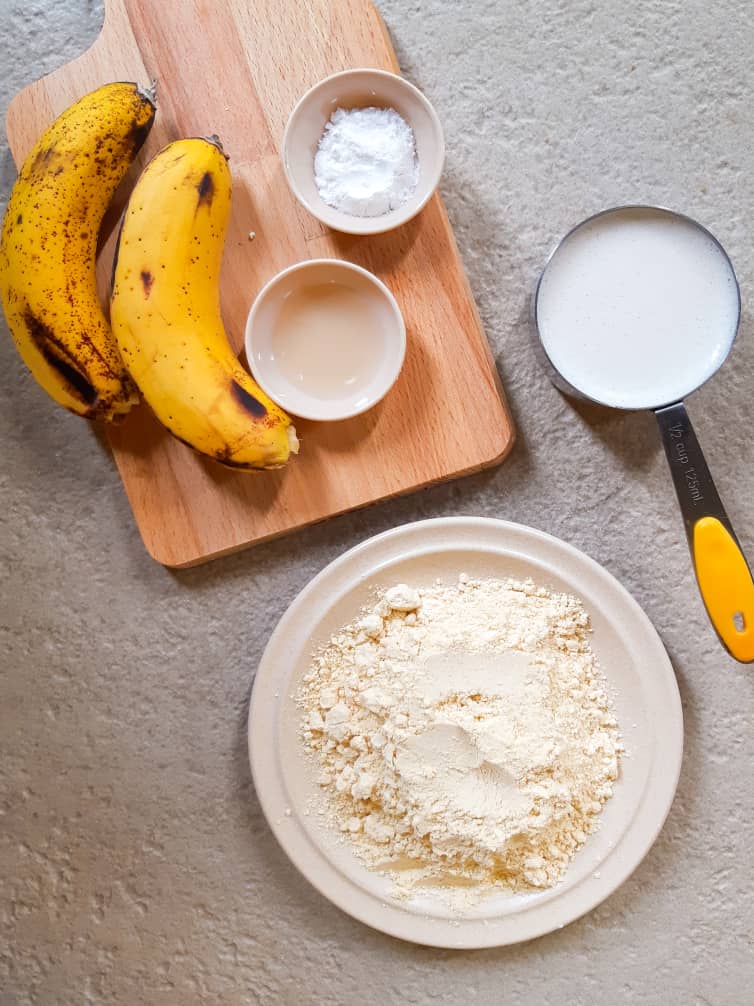 Here is a rundown of ingredients used :
Chickpea flour- This is what makes the waffles high protein. You can actually DIY your own ! Learn how to make your own chickpea flour here.
Mashed bananas- They work well as a natural sweetener. Other then that, mashed bananas are also a common vegan egg replacer.
Apple cider vinegar and non-dairy milk - I found out that the combination of these two makes a perfect buttermilk substitute. Simply let it sit for a few minutes to curdle.
Baking powder - My favourite rising agent !
The waffles are also freezer friendly, which makes it a perfect meal prep recipe. Just double or triple this recipe and you will have a whole week worth of brekkie. 🙂
Looking for more breakfast recipes ? Below are some vegan breakfast recipes to keep you inspired :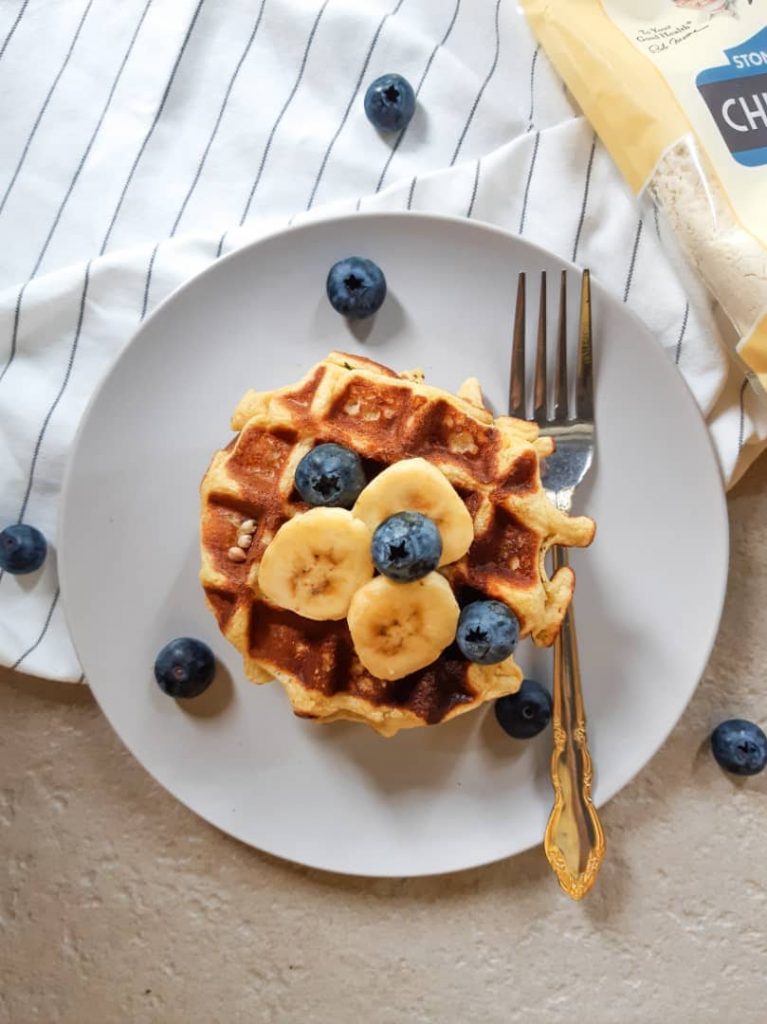 High Protein Vegan Waffles
This fluffy and crispy waffles are made out of chickpea flour which is naturally high protein. Vegan, gluten-free and only requires 5 ingredients.
Ingredients
½

cup

chickpea flour

1

medium

ripe banana

1

teaspoon

baking powder

½

cup

almond milk

( or any other plant based milk )

1

teaspoon

apple cider vinegar

1

teaspoon

vanilla extract

( optional )
Instructions
Start by curdling the milk. Combine the apple cider vinegar and almond milk. Let it sit for a few minutes or until the milk has curdle.

Preheat your waffle maker. Combine the curdled milk, mashed banana and vanilla extract in a mixing bowl. Mix well.

Add in the rest of the ingredients. Mix until a smooth batter forms.

Cook the waffles according to the manufacturer instructions. Mine takes about 5-7 minutes to cook .

Enjoy it the old fashioned way with some maple syrup, or however you like !
Notes
* You can actually make your own chickpea flour ! Full instructions here
Leftover waffles can be stored in the freezer for up to 3 months.
To maintain the crispiness of the waffles, simply place them in the oven at 100c .