Jump to Recipe
A rich and gooey bliss balls recipe that is vegan, gluten-free and healthy. One bowl and only 5 ingredients required. Perfect as a snack or dessert.
My chocolate addiction starts way back when I was a kid. Give me any type of chocolate and I will happily take it . ( So all a kidnapper need to do is to gimme a KitKat and I will happily follow them ). Sadly, most of the chocolate is not vegan. I am guilty of spending most of my time veganising my favourite childhood chocolate. One of them is Nutella! Nutella is one of the best, if not the best chocolate I had ever taste. Creamy and gooey, I am guilty of eating them spoonful by spoonful.
After spending hours in the kitchen, I had perfected this bliss ball recipe to taste quite near to Nutella. Imagine having bite size pieces of Nutella as dessert! The key ingredient to make it taste like Nutella is to use hazelnut butter. Hazelnut butter can be quite hard to find , so I tend to make it myself . It is not only cheaper, but also fresher than store bought ones that had been sitting on the shelves for ages ! You can check out how to make your own here.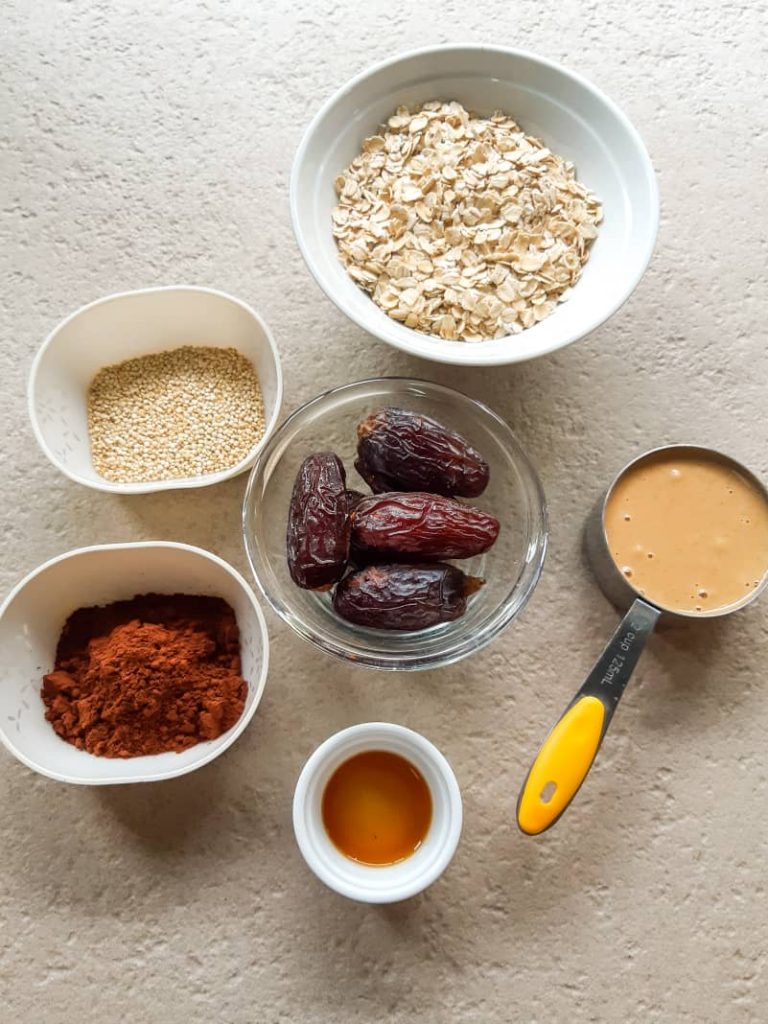 To give the bliss ball some crunch factor, I had decided on using puffed quinoa. Initially I tried using cacao nibs, but it is not really aesthetically pleasing as the colour of cacao nibs is almost the same as the colour of the bliss balls itself. After considering a few options, I had finally settled for quinoa. It gives the bliss ball a touch of colour, and also provide that crunchiness that I wanted.
Here is why they are one of my staples :
They are wonderful as a snack ! I always take a few of them on-the-go with me to prevent myself from being HANGRY. ( Never go near a hungry mee sha !)
They are perfect as a mid-afternoon treat. My sweet tooth cravings are always the worst in the afternoon. It has something to do with blood sugar, I think ?
They are also the perfect dessert to end your day. After a long day of work, there is nothing better to pamper yourself with some chocolate.
If you enjoy this recipe, you will also like this matcha energy ball recipe.
Happy making !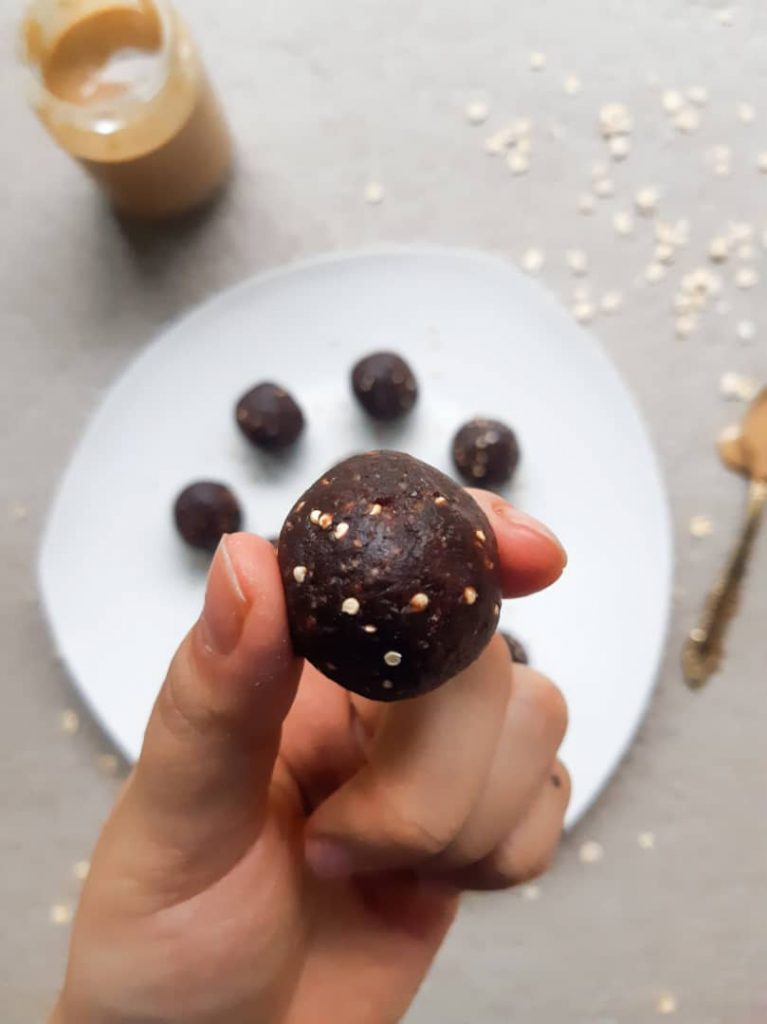 Vegan Puffed Quinoa Bliss Ball Recipe
A rich and gooey bliss balls recipe that is vegan, gluten-free and healthy. One bowl and only 5 ingredients required. Perfect as a snack or dessert.
Ingredients
1

cup

rolled oats

1/2

cup

hazelnut butter *

( or other nut butter of choice )

1/4

cup

cacao powder

125

g

dates**

( about 6-8 medjool dates )

2

tbsp

quinoa

1

tsp

vanilla extract

( optional )

pinch

of salt

( optional )
Instructions
Start by soaking the dates in boiling water for about 20 mins to soften them.

Add the quinoa to a heated pan. Let it heat for a few minutes, stirring occasionally. The quinoa will pop and puff up slightly. Set aside.

In a high speed blender / food processor, add in the oats and pulse until the oats turn into a flour like consistency.

Add in the rest of the ingredients, except quinoa into the food processor / blender and blend until smooth. You may need to add a splash of water to help form the mixture. The batter should be sticky enough to hold together.

Transfer the mixture to a mixing bowl. Gently mix in the quinoa using a spatula or your hands. Scoop out 1 tablespoon of mixture per time and form it into balls.

Refrigerate it for at least 2 hours before serving. Enjoy !
Notes
* Learn how to make your own here.
** You can skip step 1 if your dates are soft and moist.