Vegan Peanut Butter Chickpea Blondies
Jump to Recipe
A simple blondies recipe that is also vegan, gluten-free and high in protein! Only 6 ingredients required, freezer friendly and perfect for meal prep.
Beans used in baking ? I used to think that it is impossible and weird. One day, I had finally gather the courage to try it. Turns out , it is actually not as bad as i expected it to be. In fact, it is actually REALLY GOOD. You cant really taste the beans in the baked goods. The beans also gave the baked goods a creamy texture that is moist and rich when you bite into it.
Oh, and also who do not like sneaking extra protein into your dessert/breakfast ? I definitely do not mind some protein. To be honest, I am working on having a protein source in every meal as I found that this is what works best for me. Breakfast is the hardest of all as I am on team sweet breakfast 🙂 . For me, it is quite hard to have protein in my breakfast when all I want is oats and toasts . This is why the idea of using beans in baking is appealing to me. I can have my usual sweet breakfast but loaded with protein.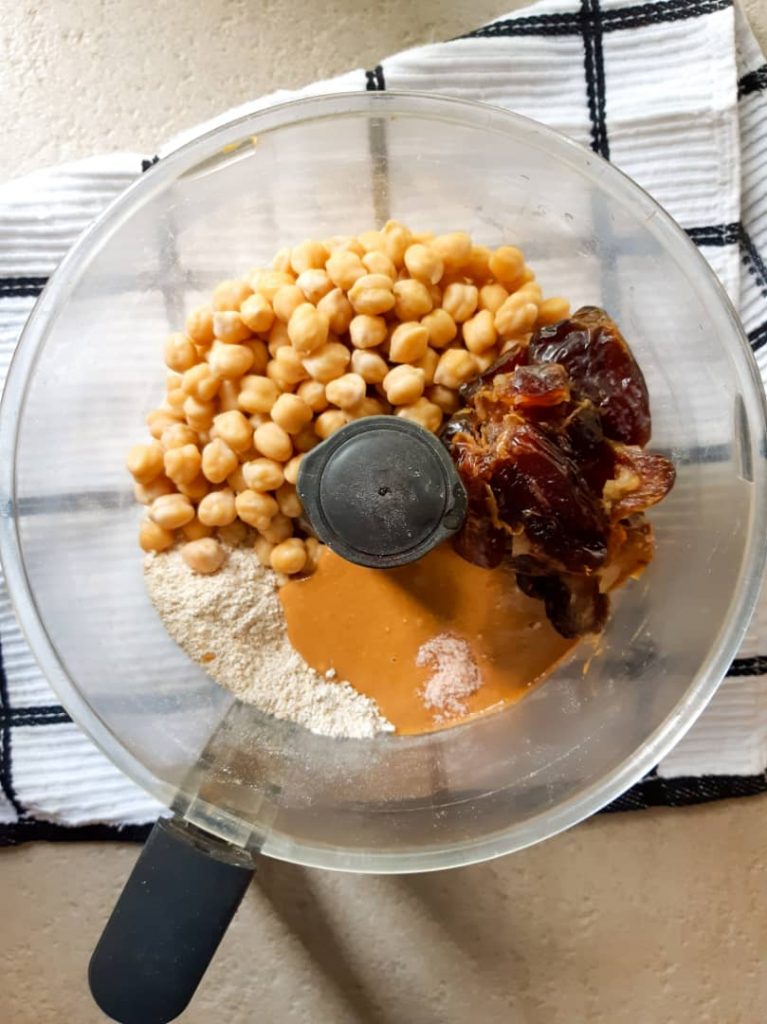 This is also a great meal prep recipe ! I used to make a batch of them during the weekends when I was in high school. That way, I have something to grab and go in the morning. I also like to pack them as a snack to take with me to school.
For my fellow Malaysians out there, you will know that food goes bad very quickly here due to our moist weather. I do not recommend storing the blondies outside for more than 2 days. But the good news is, the blondies are freezer friendly. Store leftovers in the freezer for up to 3 months.
Here are more simple chickpeas recipes that you may like :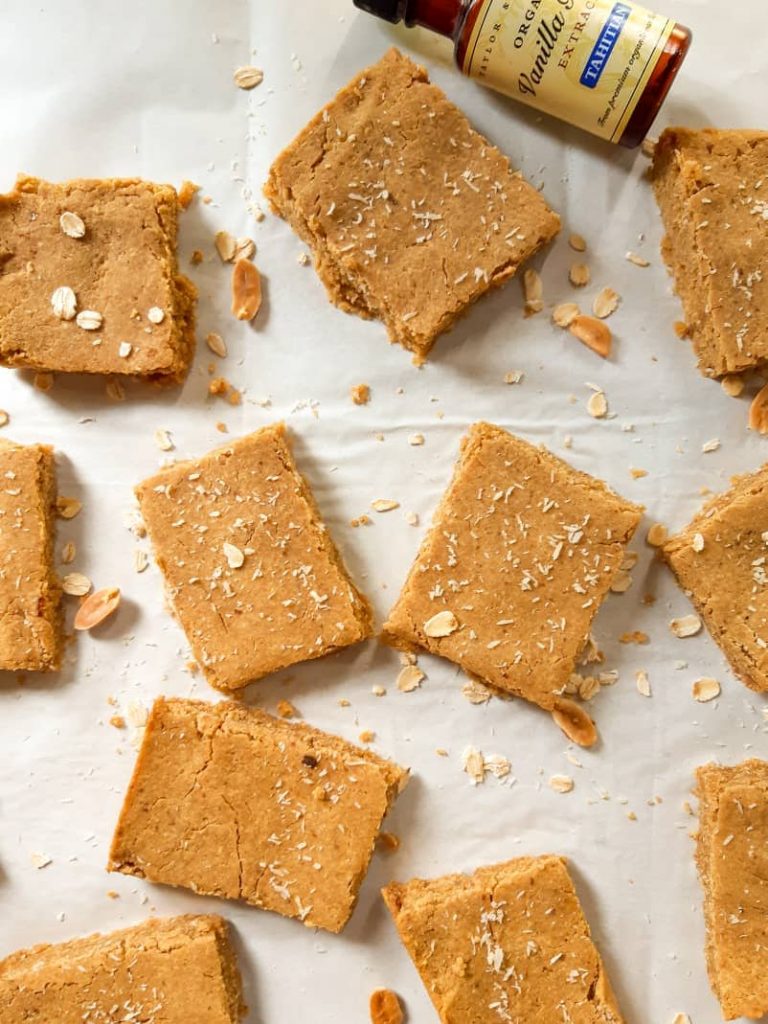 Peanut Butter Chickpea Blondies
Ingredients
1

cup

raw chickpeas, soaked overnight and cooked

( about 3 cups cooked chickpeas )

1/2

cup

peanut butter

1/2

cup

oats*

200

g

dates

( about 1 cup + 1 more dates )

2

tsp

baking powder

1

tsp

vanilla extract

( optional )

pinch

of salt
Instructions
Preheat the oven to 180c.

Soak your dates in hot water for about 20 mind to soften them. ( If your dates are moist enough, you may omit this step.)

Place the oats in a food processor / high speed blender and pulse until a flour like consistency forms. Depending on your blender / food processor, it should take less than 1 min.

Add in the rest of the ingredients in the food processor / blender. Pulse until a smooth batter forms.

Line a 9×9 baking pan with parchment paper. Transfer the batter into the pan.

Top it with desiccated coconut, if using. Gently press down the desiccated coconut to make sure they stay in place.

Bake it in the oven for 20 mins or until the edges are slightly golden.

Slice and transfer it to a cooling tray. Enjoy !
Notes
I highly recommend using a food processor. It will definitely make your life easier 🙂
Blondies can be stored at room temperature for up to 2 days ( or more if you are living in a dry climate ! ) Leftovers can be stored in the fridge for up to 1 week, and can be freeze for up to 3 months.
Feel free to add some chocolate chips or cacao nibs to spice things up !
*To make this recipe gluten-free, simply use gluten-free oats.
---