Jump to Recipe
A veganised version of the famous Malaysian street food, dry wonton noodles. Only requires 7 ingredients. Vegan, healthy and can be made gluten-free.
No doubt, you can find lots of good food in Malaysia. And most importantly, you do not have to pay tons just to get good food. This is where hawker stalls come into play. Believe me or not, some of the foods at the hawker's centre are as good as, if not better than Michelin star restaurants ! And the best part ? You will only be paying a fraction of a normal restaurant's price !
Before becoming vegan, one of my go-to dishes at the hawker stall is wonton noodles. The combination of chewy noodles and the rich, salty sauce always make my mouth water. Therefore, this is one of the top dishes to veganise in my list .
Traditional wonton noodles are not vegan. To begin with, egg noodles are often used as the choice of noodles. As its name implies, egg noodles has egg in it. Other than that, authentic wonton noodles oftentimes contains crispy pork lards and pork lard oil. ( As a reminder, most Chinese dishes in Malaysia uses pork lard oil, so don't forget to ask about it if you are vegan !) To veganise this recipe, I am using store bought oat noodles. In place of pork lard oil, I am using shallot oil, which is another popular condiment here.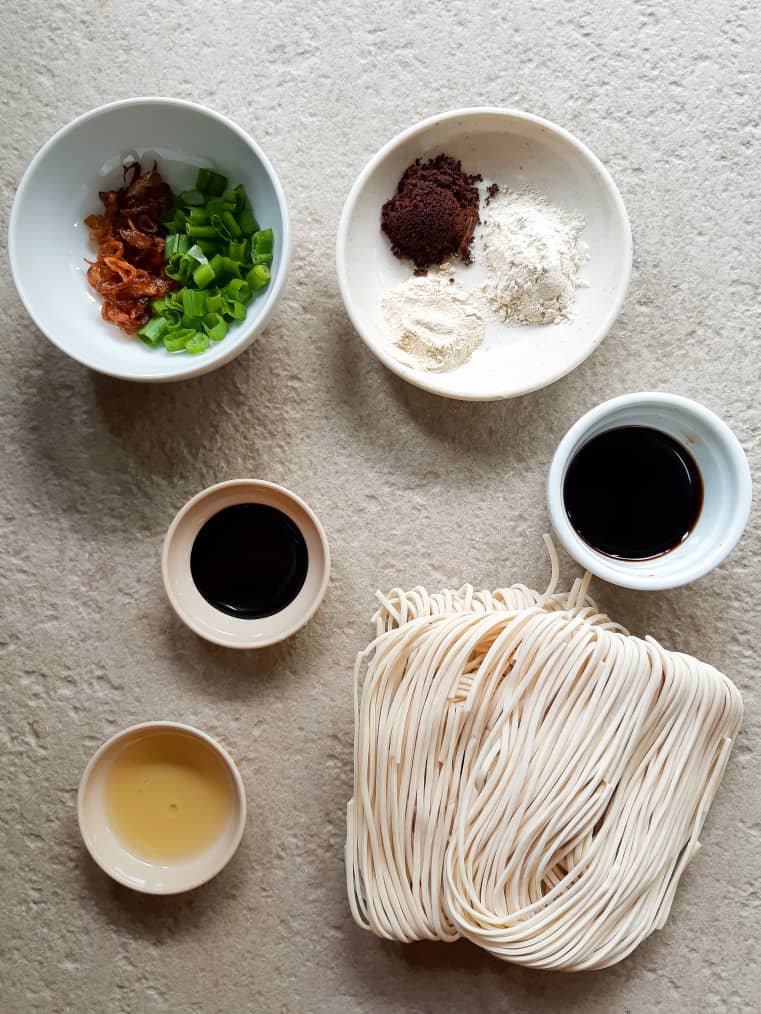 Here is a breakdown of ingredients needed for the dry wonton noodles:
Noodles of your choice- You can literally use any noodles, from yellow noodles to the good old spaghetti noodles. To make this recipe gluten-free, simply use gluten-free noodles.
Soy sauce- Soy sauce is essential in cooking, especially in Chinese cuisines. It is made up of fermented soy beans. Salty and rich, it is what brings your normal dishes to a whole other level ! Use tamari to make this dish gluten-free.
Dark soy sauce- Dark soy sauce is a close relative of soy sauce. It is actually a sweeter soy sauce that had been fermented for a longer period. This is what gives the noodles its dark caramel colour.
Garlic and onion powder- Pretty self-explanatory, they are a must have in savory dishes. I find that this gives the noodles an instant noodles kinda flavour.
Fried shallots and shallot oil- These 2 can literally make any dishes 10x better. ( I am not bragging, try it for yourself !) It is actually very easy and simple to make. Simply fry some shallots in oil and you will get fried shallots and shallot oil ! Click here to get the exact measurement. You can also use sesame oil.
Coconut sugar- As a sweetener. You can of course use any sweetener on hand !
I like serving them with some wilted choy sum and some Asian Style Vegan Tofu Mince to make this a full meal !
Here are some easy mains you may like :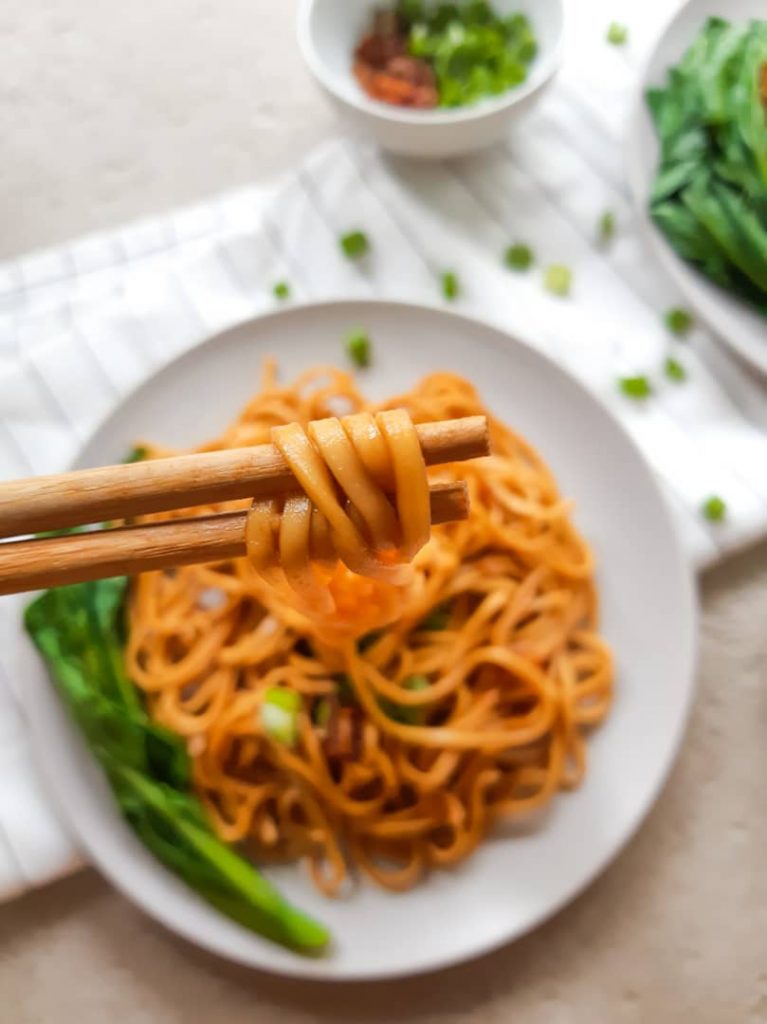 Vegan Dry Wonton Noodles ( 云吞面 )
A veganised version of the famous Malaysian street food, dry wonton noodles. Only requires 7 ingredients. Vegan, healthy and can be made gluten-free.
Ingredients
100

g

noodles of choice*

( around 2 servings )

1

tablespoon

soy sauce

( or tamari )

1

teaspoon

shallot oil **

( or sesame oil )

1

teaspoon

dark soy sauce

( optional, but recommended )

1

teaspoon

coconut sugar

( or any other sweetener )

1

teaspoon

garlic powder

1

teaspoon

onion powder
For garnish ( optional )
chopped green onions

fried shallots
Instructions
Start by boiling the water. Cook your noodles according to the package instructions.

In the meantime, combine both of the soy sauce, coconut sugar, shallot oil, garlic powder and onion powder. Mix till well combined. This will be the sauce for your noodles.

Drain the noodles and immediately transfer it to a bowl of cold water. ( This step is important for this specific recipe. It helps prevent the noodles from sticking together. )

In a large bowl, toss in the noodles and the sauce made earlier.

Garnish it with chopped green onions and fried shallots. Enjoy !
Notes
*To make this recipe gluten-free, use gluten free noodles.
**Making your own shallot oil and fried shallots is actually very simple. Learn how to make here. 
Nutrition info calculated is just a rough estimate and is provided as a courtesy. Bear in mind that value will vary based on variables like specific brand or type of product used. To obtain the most accurate representation, it is highly recommended that you calculate it on your own with the actual amount and type of ingredient used.